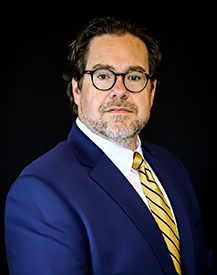 Jeremy L. Cummins, LPN, LNHA
County: Winston
Governor:  Tate Reeves
District: 1
Position on Board:  LPN 
Date Appointed:  July 1, 2021
Term Expires:  June 30, 2025
Jeremy L. Cummins, LPN, LNHA, currently serves as Administrator for Louisville Healthcare, an entity of Trend Consultants, where he has served in the administrator and operations role for the past 11 years.
A native of Louisville, Mr. Cummins graduated from Winston Academy in 1994. He pursued his education at East Central Community College and earned his degree in Practical Nursing from Meridian Community College in December 1996. Mr. Cummins has continued his educational studies at the University of Mississippi and will graduate in August 2021 with a bachelor's degree in Healthcare Administration and Education from William Carey University. In 2005, Mr. Cummins completed coursework through the Association of Registered Healthcare Professionals to obtain a Registered Medical Practice Manager certification. In 2010, he completed the appropriate coursework to sit for the NAB exam to become a Licensed Nursing Home Administrator. Since that time, Mr. Cummins has remained a Certified Preceptor through the MS. Board of Nursing Home Administrators.
With 24 years of experience in nursing, Mr. Cummins has served as a nurse in the areas of Med-Surg, Child and Adolescent Psychiatry, Urology, Orthopedics, and Long-Term Care. Along with his nursing experience, Mr. Cummins has served for the past 20 years in administrative roles in both medical practices and long-term care. As a result, Mr. Cummins has extensive knowledge of long-term care policy and the ever-changing culture of healthcare.
Mr. Cummins is an active member of the Mississippi Healthcare Association, serving on the Education/CE Committee and the MLPNA. In addition, Mr. Cummins currently serves as president of the Winston County Chamber of Commerce, active member of the Louisville Main Street Association and the Mississippi Main Street Association. Along with his wife Heather, Mr. Cummins is co-owner of Southern Traditions, Main Street Holdings, and The Mason Boutique Hotel in downtown Louisville.
Mr. Cummins and his wife, Heather, have five children (Tucker 19, Hannah 18, Ethan 15, Sadie 14, and Anniston 12). Together with his family, they worship and serve at First Baptist Church in Louisville, MS, where Mr. Cummins serves as a deacon, Sunday school teacher, and on various other committees.