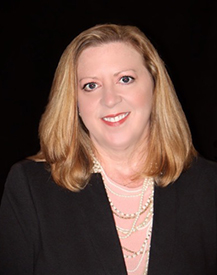 Mary W. Stewart, PhD, RN, FAAN 
City: Petal
Appointed by Governor:  Bryant
District: 4
Date Appointed:  07/01/2019
Term Expires:  06/30/2027
A life-long Mississippi resident, Dr. Stewart earned the BSN from Mississippi College in 1991; followed by the MSN in Nursing Education (1994) and the PhD in Nursing (2002) from the University of Mississippi Medical Center (UMMC). Her 25-year tenure of working in academia afforded extensive experience working with undergraduate (BSN), graduate (MSN), and doctoral (DNP and PhD) students in both public and private universities. Additionally, she has served in various administrative capacities, including dean of nursing at William Carey University (2003 to 2008) and interim dean of the University of Mississippi School of Nursing (2018 to present). Dr. Stewart leads the PhD program in nursing science at UMMC and is responsible for recruiting and mentoring exemplary students; conducting strategic planning and evaluation; as well as negotiating research and funding opportunities.
Clinically, Mary began professional practice as a staff nurse at the Jefferson Davis County Hospital in Prentiss, Mississippi, where taking care of medical, swing-bed, and emergency patients provided a range of experiences to ground her career. Over time, she worked in cardiology, pulmonology, outpatient surgery, hospice and home health. For many years, Mary worked in the post-anesthesia care unit and has contributed as the research columnist for the Journal of PeriAnesthesia Nursing since 2005.
Collaboratively, Mary has engaged in research with disparate populations and is currently working with the National Cancer Institute and the Mississippi State Department of Health on the new STRIDES project: Studying Risk and Disparities to evaluate the feasibility and efficacy of novel HPV-based assays for cervical screening and triage strategies.
Mary's nursing career has been punctuated with recognitions including the Region's Bank TEACH Prize, induction into the Norman C. Nelson Order of Teaching Excellence, Alumnus of the Decade (UMMC), Alumnus of the Year (Mississippi College), Nightingale Award for School of Nursing Administrator of the Year (William Carey University), as well as fellowships in the American Association of Colleges of Nursing and Sigma Theta Tau International.
Philosophy of Science – her favorite course – combines a commitment to discovery with the imperative to question. Like nursing, philosophy embraces the gray and challenges multiple perspectives to arrive at the "best truth." Honored to be appointed to the Mississippi Board of Nursing, Dr. Mary Stewart wants her fellow nurses across the state to know, "I am committed to seeking the best truth as we navigate the decisions and responsibilities conferred to the Board."