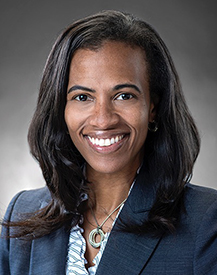 Dr. Michelle Owens, MD
Position: Physician
City: Jackson, MS
Appointed by Governor: Bryant
District: 2
Date Appointed: 7/19/2018, Term Expiration: Open
Dr.  Michelle Owens is Professor in the Department of Obstetrics and Gynecology (OB-GYN) at the University of Mississippi Medical Center. A native of Birmingham, Ala., she attended the Medical College of Virginia School of Medicine, completed her OB-GYN residency training at Johns Hopkins Hospital, and a maternal fetal medicine fellowship at the University of Mississippi Medical Center.
Dr. Owens is board-certified in both OB-GYN and maternal fetal medicine. She is active in multiple professional organizations on both the local and national levels.   Her passion is improving the health status of all Mississippians, especially women and girls. 
In her spare time, Owens is active locally in the Jackson community and her church.  She is the host of the weekly radio show Southern Remedy for Women on Mississippi Public Broadcasting.  She loves cooking, travel, reading, music, sports and the outdoors. However, her favorite pastime is spending time with her husband and their three children.