Pathway to Nursing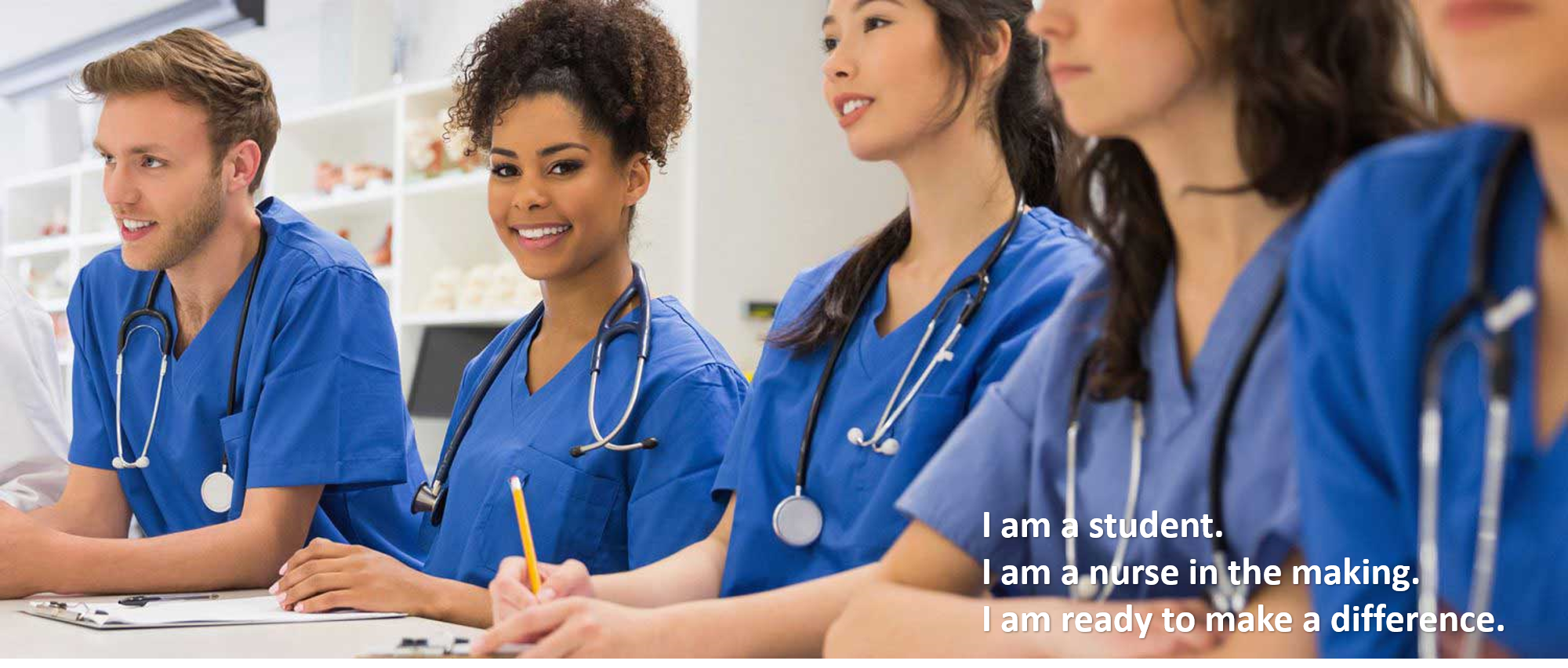 Being a nurse is not what you do. It is what you are...
If you enjoy making a difference in the lives of others, why not make a career out of it? Earning a nursing degree is certainly one of the greatest educational investments you can make these days. Nursing as a profession is a rewarding career, filled with many opportunities, challenges, and rewards.
To become a nurse, you will need to do the following:
STEP 1. ACADEMIC REQUIREMENTS FOR NURSING PROGRAMS.
If you are in high school, helpful courses to consider are sciences, particularly biology, anatomy and physiology, and chemistry. You will also need math/algebra, and excellent written and oral communication skills. If you are a high school graduate considering a nursing program, classes essential for most programs can include: chemistry, anatomy and physiology, microbiology, nutrition, algebra and statistics, lifespan development, English composition, sociology, and psychology. The number of prerequisites is dependent on the specific program you select.  If you are a nurse and is interested in Advanced Practice Nursing (APRN), a Registered Nurse (RN) licensure is a prerequisite to the APRN licensure/authorization program.
STEP 2. DECIDE WHAT KIND OF NURSING EDUCATION YOU WANT TO TAKE.
The two most common types of nursing programs include Practical Nurses (PNs) and pre-licensure nursing (BSN). Education requirements vary for each program. The PN program is the fastest option, ranging from 12 to 18 months. The pre-licensure program has a range of either a two year associate's degree (ADN) or a four year bachelor's degree (BSN). Obtaining a Bachelor's of Science in Nursing can be a stepping stone to additional career opportunities with further education, such as Advanced Practice Nurses (APRN) (e.g., Nurse Practitioners [NP], Nurse Midwives [NM], and Certified Registered Nurse Anesthetists [CRNA]). The length of the program may vary based upon if the person is enrolled in school full time or part time.
STEP 3. APPLY TO A NURSING PROGRAM.
Each program may have a slightly different application process and requirements. Programs should be contacted directly for additional program details. Inquiries regarding admission should be made as far in advance as possible.
STEP 4: PASS EXAMINATION.
After graduation, candidates must pass the NCLEX exam. Mississippi is an NLC (Nurse Licensure Compact) state. This means that if a nurse's primary residence is Mississippi, s/he can practice in any of the 32 compact states.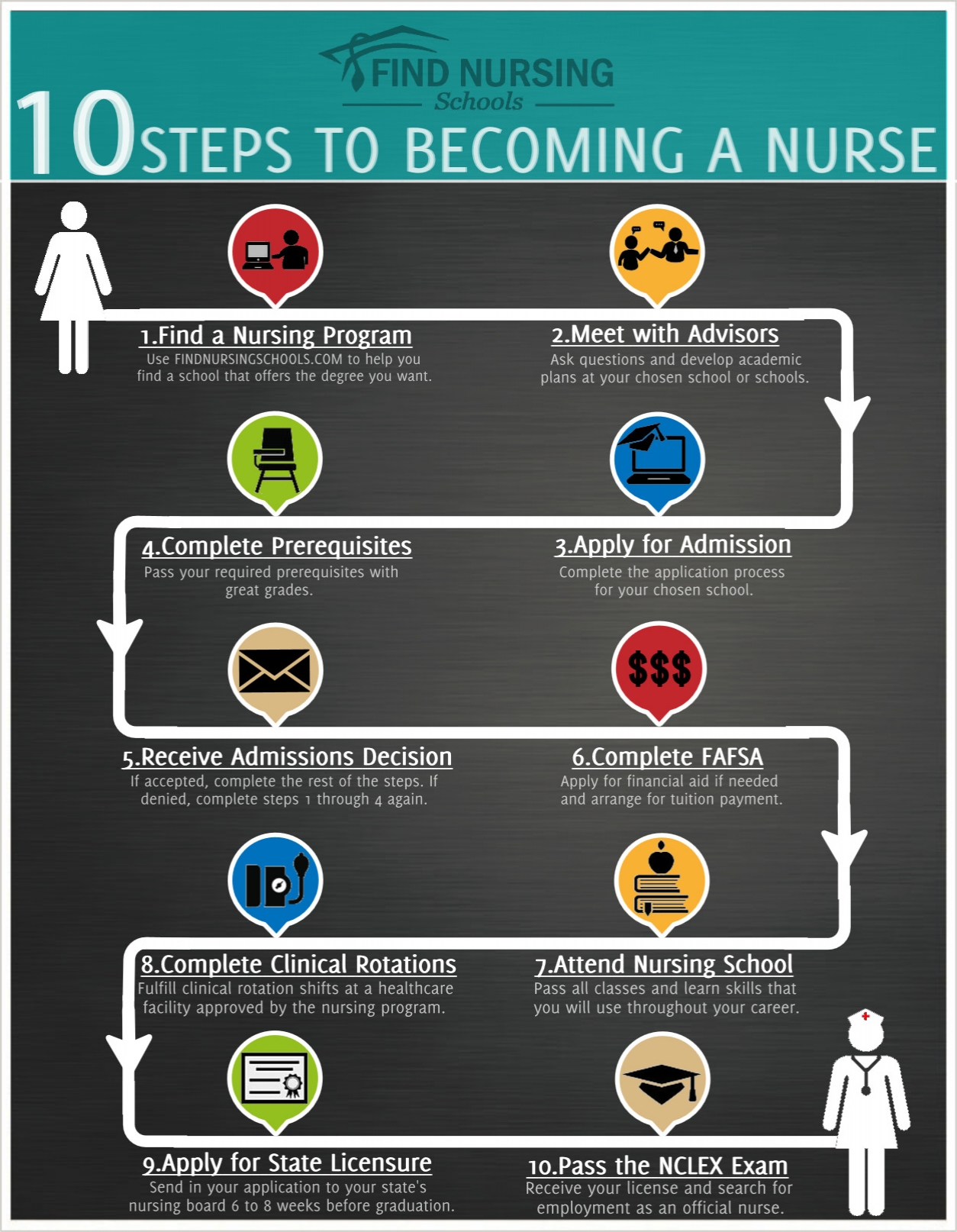 ADVANCED PRACTICE NURSES
The Mississippi Board of Nursing certifies qualified registered nurses to work as advanced practice registered nurses (APRN) in the state. To become an Advanced Practice Registered Nurse (APRN), you must complete the following steps.
STEP 1. RECEIVE A GRADUATE DEGREE IN NURSING.
You must study towards a recognized concentration. The Mississippi Board of Nursing has approved various programs to meet requirements. The programs must be fully accredited by a recognized national accreditation agency. Additionally, the Board set specific requirements on the curriculum of accepted nursing programs in specialization. APRNs in Mississippi are automatically granted prescription authority.
If you wish to work as a Nurse Practitioner (NP) you must also complete a concentration in a nursing specialty (e.g., family/individual across the life span, adult/gerontology, pediatric, neonatal, women's health, psychiatric/mental health) in which you intend to practice.
A list of Board-approved graduate nursing programs in Mississippi may be found here.
STEP 2. BECOME NATIONALLY CERTIFIED.
The following national certification agencies are recognized by the Mississippi Board of Nursing (please note, each agency has specific registration requirements):
 • The ANCC (American Nurses Credentialing Center), which recognizes the Adult Nurse Practitioner, Acute Care Nurse Practitioner (ACNP), Gerontological     Nurse Practitioner (GNP), Family Nurse Practitioner, Adult Psychiatric Mental Health Nurse Practitioner (PMHNP), Pediatric Nurse Practitioner (PNP) and           the Family Psychiatric Mental Health Nurse Practitioner (PMHNP).
• The AANP (American Academy of Nurse Practitioners), which recognizes the Adult Nurse Practitioner and the Adult-Gerontology Primary Care NP.
• The AACN (American Association of Critical-Care Nurses), which recognizes the Acute Care Nurse Practitioner.
• The NCC (National Certification Corporation for the Obstetric, Gynecologic and Neonatal Nursing Specialties), which recognizes the Women's Health         Care Nurse Practitioner (WHNP) and the Neonatal Nurse Practitioner (NNP).
• The PNCB (Pediatric Nursing Certification Board), which recognizes the Pediatric Nurse Practitioner in Acute Care and Primary Care.
• The AMCB (American Midwifery Certification Board), which recognizes the Certified Nurse Midwife (CNM).
• The National Board on Certification and Recertification of Nurse Anesthetists (NBCRNA), which recognizes the Certified Registered Nurse Anesthetist         (CRNA).
STEP 3. APPLY TO BECOME LICENSED.
You must complete the Initial Application for Certification to Practice as APRN, and include all necessary documentation and fees. However, if you have not yet been nationally or state certified but you still want to practice, you can apply for Graduate Certification. This process will grant you a 120 day certification from the day of completing your graduate degree.  Additionally, you must prove that you are in the process of becoming fully certified.
STEP 4. RENEW YOUR LICENSE.
APRN certificates must be renewed biannually in even years by December 31, together with RN license. Both renewals can be completed online. The Mississippi Board of Nursing has set a requirement for all APRNs to partake in 40 contact hours of CE) Continuous Education) that is linked to their specialization every two years. Two of these hours must be about pharmacology of controlled substances if you have received prescriptive authority for these substances. The APRN and RN certificate cost $100 each to renew.  Additionally, you must complete the appropriate documentation in order to have your license renewed.