Pursuing Opportunities in Nursing 

"When you are a nurse, you know that everyday you will touch a life or a life will touch yours." - Anonymous 
Nursing continues to be the largest workforce in healthcare. Depending on the amount of education and training received, this line of work offers a variety of choices, as there are many different types of nurses. There are so many educational paths you can take, so research all there is to know about the various nursing degree programs.  
Nurses advocate and care for individuals through health and illness. They are responsible for ensuring that patients are able to understand their health, illnesses, medications, and treatments to the best of their ability. When providing direct patient care, they are involved in the decision-making process for the treatment of patients. One of the greatest aspects of nursing as a profession is the ability to work in diverse settings from the hospital to the office setting and in many different roles. The options are nearly endless.
                                                                                                                                  Types of Nursing Degrees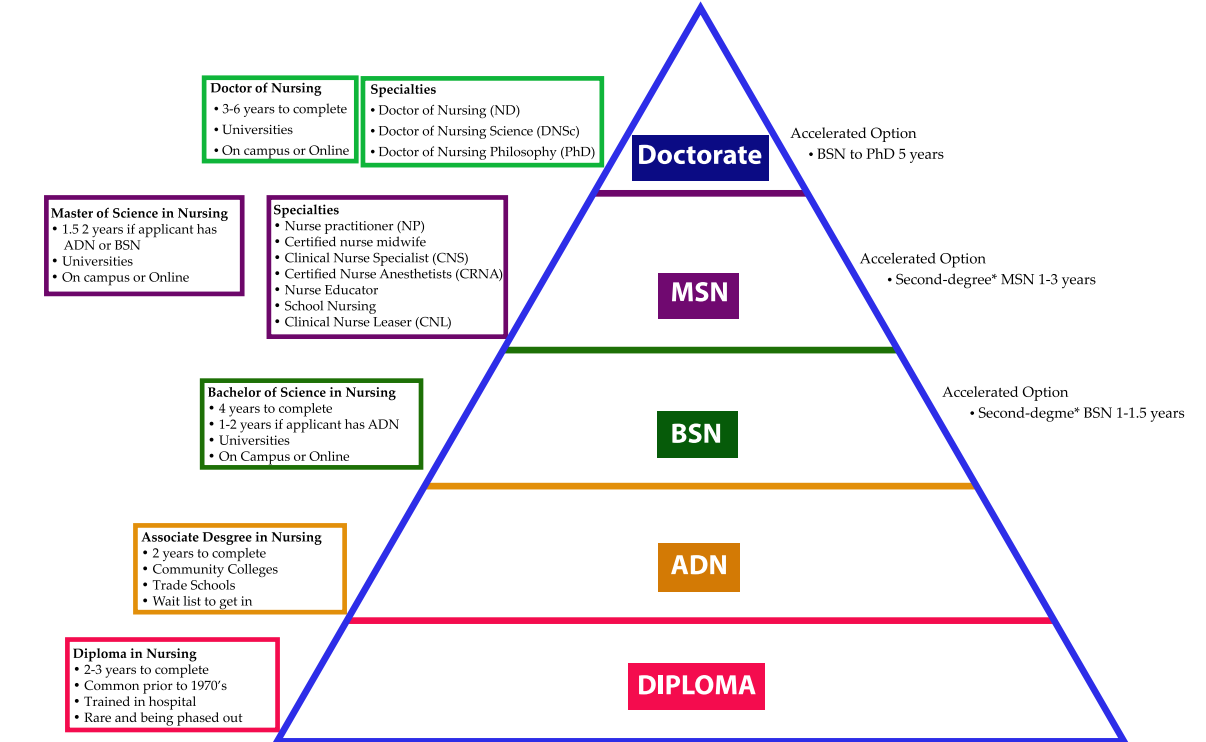 Nursing Specialty
What kind of nurse do you want to be? As you further your nursing education, you may want to dedicate your career to a specific type of nursing. A nurse who specializes and chooses to become certified demonstrates their experience and knowledge in a particular area.
Explore Specialties
More than 100 different specialties exist within the field of nursing! To decide which specialization is right for you, research the individual requirements, salaries, and career path right for you.   
Career Choices
According to the U.S. Bureau of Labor Statistics, nursing is growing at a faster rate than any other occupation. With that said, Mississippi is a great state to find work in the health care industry best suited to your skills and interest. There are numerous career opportunities in nursing and the number of nurses needed is only projected to increase. Types of career options include:
Clinical Nurse Educator

Public Health Nurse

Home Health Nurse

Travel Nurse

Forensic Nurse

Nurse Advocate

Hospice Nurse

Telephone Triage Nurse
Nurses are in demand in a variety of specialties and work settings, so if you have a nursing degree, chances are you will be able to find a position in one of the following locations:
Hospitals

Skilled Nursing Facilities

Outpatient Settings

Physician Offices

Clinics

Insurance Companies

Government

Community Health

Elementary or High School

Universities

Correctional Healthcare Facilities
To learn more about all the exciting different opportunities that exist, check out the nursing schools link below.
                Schools of Nursing
Blue Mountain Christian University
Copiah-Lincoln Community College
East Central Community College
East Mississippi Community College
Mississippi Delta Community College
Mississippi Gulf Coast Community College
Mississippi University for Women
Northeast Mississippi Community College
Northwest Mississippi Community College
Southwest Mississippi Community College
University of Mississippi Medical Center
University of Southern Mississippi